Community Pediatric Asthma Service
Signs and Symptoms it might be Asthma
Your child may have asthma, a condition that causes narrowing and swelling of the airways or bronchial tubes in your lungs. 
But what are the signs or symptoms?
Review the information on this page and make an appointment with your healthcare provider if you have any questions or concerns.
Your child may have asthma if they experience:
A cold or cough that won't go away
A cough (especially in the middle of the night) or several weeks after you have a cold, or the cold that "just won't go away" may be asthma symptoms.
Show symptoms after exercise
Coughing and shortness of breath or wheeze 3 to 5 minutes after the start of exercise might also be signs of asthma. Not everyone who has asthma wheezes, some people only have a cough.
Coughing at night
A cough can also be due to hay fever (allergic rhinitis), or a stuffy, runny nose which often occurs along with asthma. Increased mucus that drains from the nose and down the back of your throat (post-nasal drip) may also cause coughing when you are going to sleep and just after waking in the morning.
Allergic "cough"
Coughing, shortness of breath or wheeze within 12 hours of being exposed to things like animal dander, smoke, molds, dust, etc. are often referred to as "triggers" and may cause asthma symptoms.
This checklist provides a list of common signs and symptoms of asthma.  Print the list, review it and then bring it with you to your next healthcare provider appointment for discussion.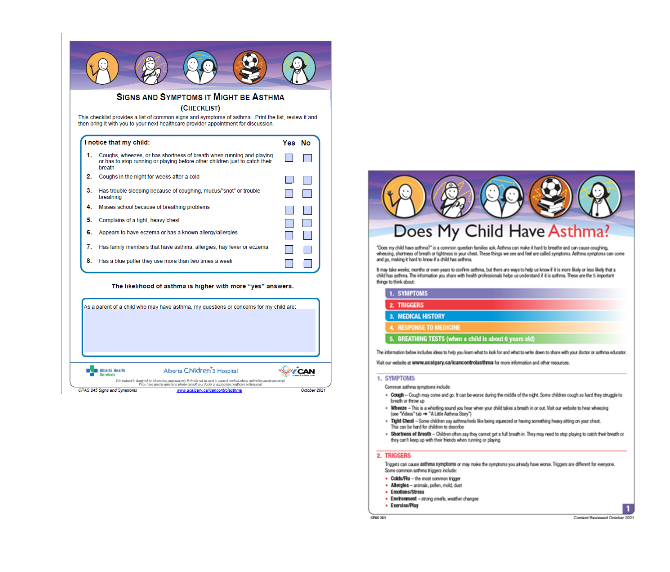 Does My Child Have Asthma?
Included in our most popular handout are five important things to think about when asking "Does my child have asthma?"
Walk | Run | Play | Breathe
Material on this website has been designed for information purposes only. It should not be used in place of medical advice, instruction and/or treatment.
If you have specific questions, please consult your doctor or appropriate health care professional.