Community Pediatric Asthma Service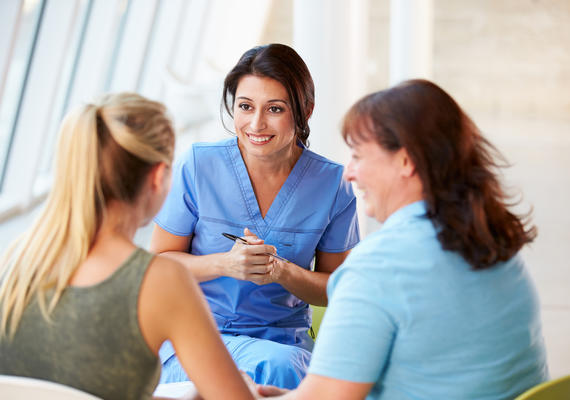 Patient Questions (FAQs)
You have questions?  We have answers!
Our team of Certified Respiratory Educators in Calgary have pulled together the most common questions they get asked. Take a look below to see if your question has been answered and if not...we are only a click away.
Asthma can be cured.
Asthma cannot be cured, but it can be controlled, so you can live without regular symptoms.
Asthma is contagious.
No, asthma is NOT contagious. You can not "catch" asthma like you can catch a cold.
Asthma triggers are the same for everyone.
Every person with asthma is different and so are their asthma triggers.  How much your asthma triggers bother you is also unique to you.
Children can outgrow asthma.
Some children appear to outgrow asthma by puberty, but as an adult, asthma symptoms may re-appear with a viral illness like a cold or new allergic trigger.
I have to stop sports and exercise because I have asthma.
There are Olympic athletes who have asthma.
Exercise is good for everyone.
When your asthma is in good control, there are no limits to sports and exercise
You may need to take your reliever inhaler before some activities. Follow your Asthma Action Plan
Inhaled corticosteroids are dangerous and will stunt my child's growth..
Regular use of inhaled corticosteroids by children does not significantly affect their expected adult height.
When used as prescribed, inhaled corticosteroids are safe.
I can stop taking my controller medicine when I start feeling better.
When your controller medicine is working, your symptoms decrease and you feel better. When you stop taking your controller medicine, airway swelling can come back and your symptoms will return.
Follow your Asthma Action Plan or ask your healthcare provider for one if you don't have a plan.
My pet is not triggering my asthma because they are a hypo-allergenic breed.
Some people with asthma react to animal dander (flakes of shed skin).  If pets are an asthma trigger for you, then there may be no such thing as an allergy-free dog or cat, even iguanas can trigger allergies!
Reducing your exposure to pet allergens is the best way to control your asthma, if you are sensitive to pet allergens.
Asthma medicines are addictive.
No, asthma medicines are NOT addictive. Asthma is a chronic condition, like diabetes, and most people with asthma need to take regular medicine to control their asthma symptoms.
My child does not have asthma because they don't wheeze.
The symptoms of asthma are coughing (#1 symptom in children), shortness of breath, wheezing and a tight chest (a feeling like something very heavy is sitting on your chest). Any of these symptoms can be an asthma symptom. 
Walk | Run | Play | Breathe
Material on this website has been designed for information purposes only. It should not be used in place of medical advice, instruction and/or treatment. If you have specific questions, please consult your doctor or appropriate health care professional.