National Ranking & Outcome Measures
Measures of Performance/Outcomes
At the Cumming School of Medicine, University of Calgary, several outcome measures are collected and reviewed annually as part of our quality assurance program.
Satisfaction/Quality of Medical Education
 Each year the graduating students complete the Canadian Graduate Questionnaire which provides results at both the individual school and national levels. This allows us to examine how our students respond in relation to their peers at medical schools across Canada. These data provided by the graduating Class of 2019 reveal that most (93%) of the respondents who completed their medical training at the University of   Calgary rated their experience highly (Good, Very Good, Excellent), as did their peers who were training elsewhere across Canada.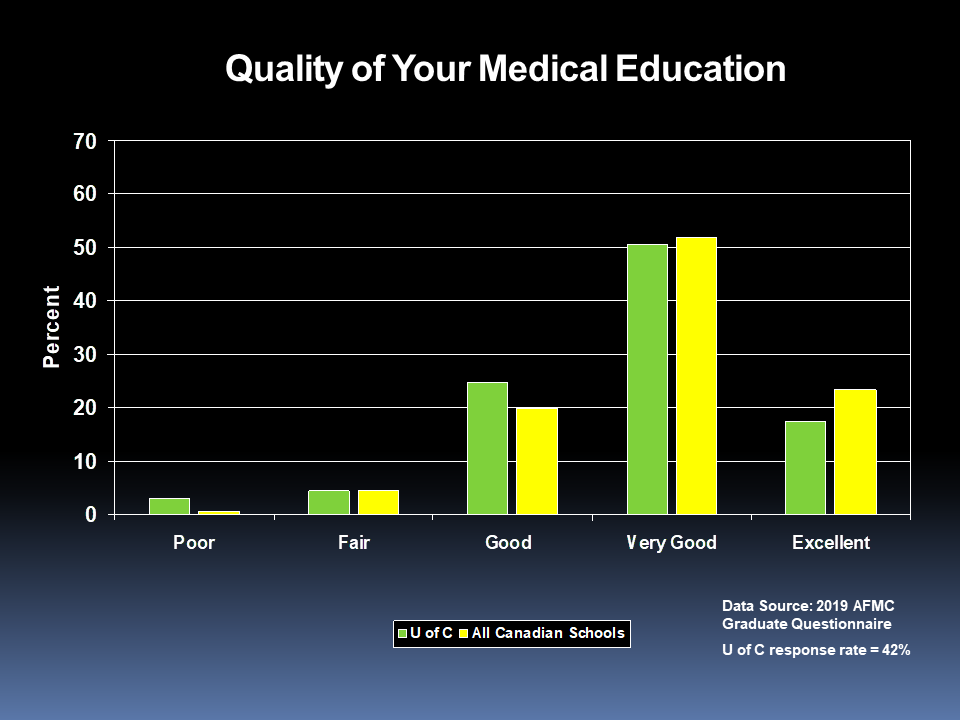 Success in the Residency Match
In the final year students from all medical schools across Canada compete for residency positions. The results of the 2019 match of Canadian graduates show that 86% of our students who matched in the first iteration were successful in matching to their first choice discipline.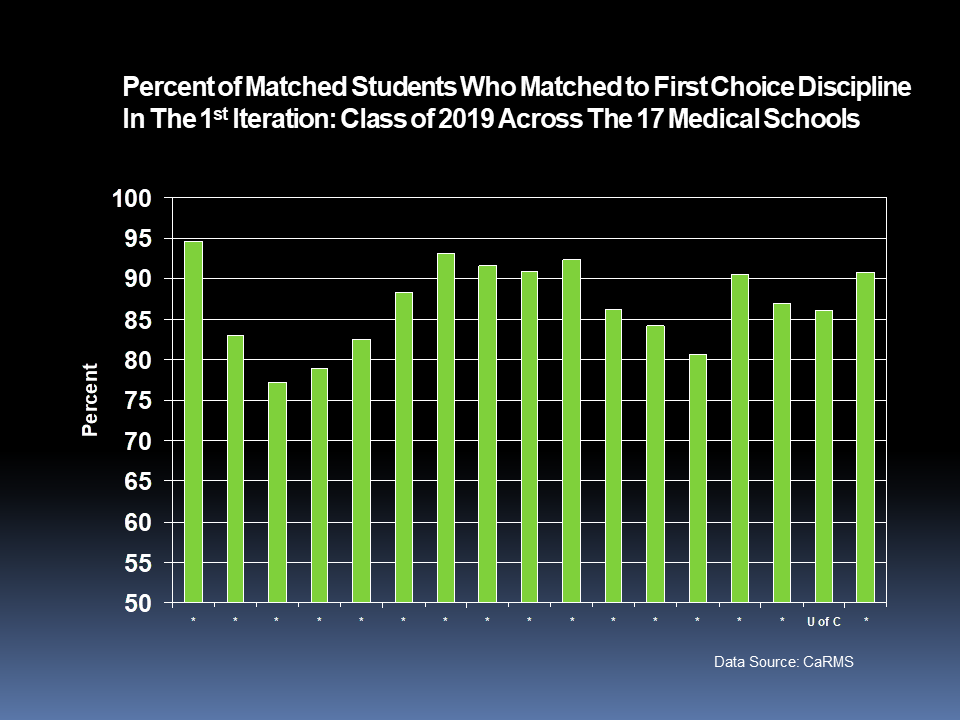 Medical Council of Canada Licensing Examination
Each year the graduating class writes the Medical Council of Canada Qualifying Exam Part 1 before beginning residency. The results for the past 10 years are depicted below. The overall pass rate for the 2019 class was 95% while the pass rate of all Canadian medical school graduates who wrote the exam for the first time was 95%.  A revised exam/scoring format was introduced in 2018.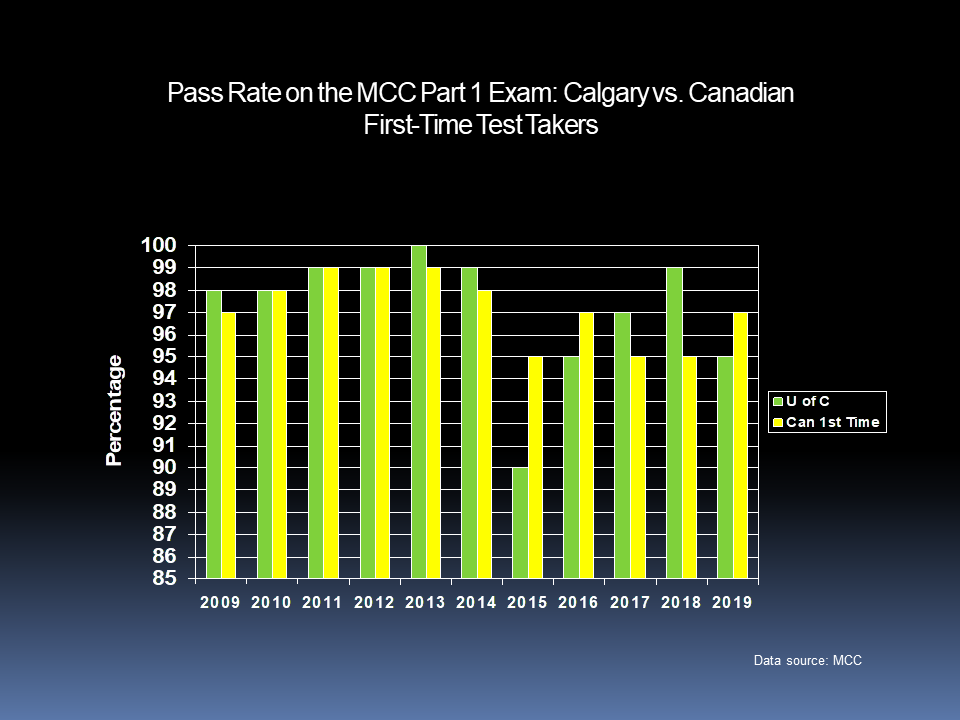 Career Choice of Graduates
159 students in the 2019 match (1st & 2nd iteration) were successful in securing a residency position across 25 different specialty training programs. The most popular residency disciplines were Family Medicine (61), Internal Medicine (25), General Surgery (8), Paediatrics(12) and Orthopedic Surgery(9).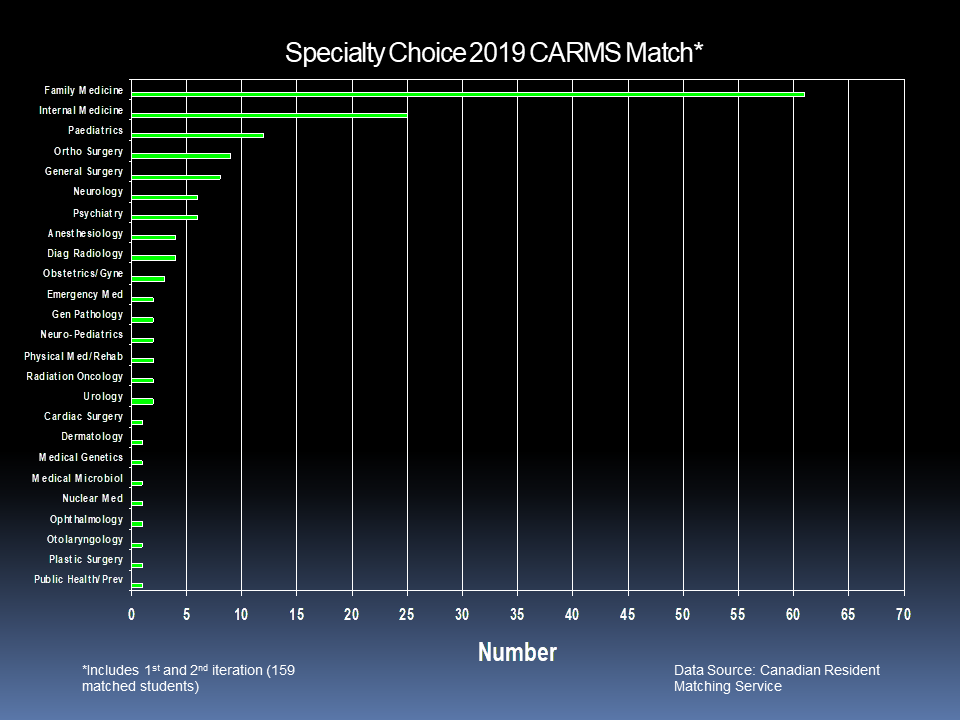 Performance in Residency
The Cumming School of Medicine monitors the residency performance of the graduates. We ask directors of residency programs where our graduates are training to complete a brief assessment of the graduates' performance midway through year 1 (PGY1). Depicted below are the results for the Class of 2017. More than half (53%) of the graduates were rated by program directors as "stronger than most" residents typically in their program.