What is a Teaching Centre?
The Calgary Family Medicine Teaching Centres are training sites for physicians and other disciplines in family medicine. As a patient of our clinics, you will be seen by medical students or residents and their supervising physician. Together with multi-disciplinary team members, our learners and physicians are committed to providing you with the highest quality of evidence-based medical care.
What types of learners are at the clinic?
Residents are physicians who have recently completed medical school and are taking speciality training in Family Medicine in our clinics. They work with a family physician preceptor.
Clinical Clerks are students in year three of their medical degree.
First and Second Year Medical students also have clinical experiences under the supervision of a family physician
We have nursing, social work and pharmacy students here from time-to-time as well.
Who will I see during my visit?
Many visits in our clinics will be conducted by a learner of any gender. Your physician may not always be present in the exam room - depending on the nature of your medical concern and the training level of the learner - but is always involved in the visit by helping to direct the care provided by the learner and assist with the decisions made.
Your visit may also involve more than one medical professional. This can result in some delays while learners review your care with the supervising physician. As a result, visits in our clinics typically take longer. Nevertheless, many of our patients take pleasure in knowing that they are playing a vital role in the development of a new generation of family physicians and other medical professionals.
Diversity and Inclusion
We value the diversity of the patients we are privileged to care for, as well as that of our team members and are committed to creating a safe environment inclusive of that diversity.
Team-Based Care
Our dedicated teams of physicians, learners, multi-disciplinary team members and support staff work together to provide you with comprehensive, coordinated care. These teams work in small units within the clinic, called "microsystems". Members of a microsystem work closely together, so that if your family doctor is unavailable, you can be seen by a doctor from the same team, who will be familiar with your needs.
Working with Residents
Your doctor is a practicing family physician preceptor working to train new family physicians. While training, these new family physicians are called residents. Residents are licensed physicians completing a 2 year specialty program in Family Medicine.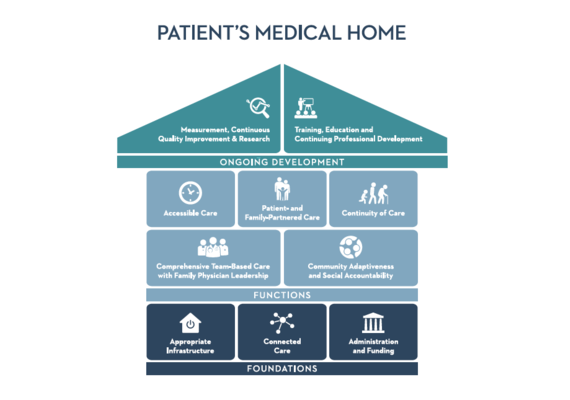 Our Clinics are a Patient Medical Home
The Patient Medical Home (PMH) is a vision for Canadian family practice, presented by the College of Family Physicians of Canada and updated in 2019. It puts the patient at the centre of the care model, to receive comprehensive, coordinated and continuous care from a family physician and health care team. This vision outlines 10 pillars of a Patient Medical Home.
The PMH is a family practice defined by its patients as the place they feel most comfortable discussing their personal and family health and medical concerns.
The College of Family Physicians of Canada. Family Practice - The Patient's Medical Home 2019: A New Vision for Canada. Mississauga, ON; 2019.
Primary Care Networks (PCNs)
Primary Care Networks (PCN) are groups of family doctors who work with Alberta Health Services and other health professionals to coordinate the delivery of primary care services for their patients. Each network has the flexibility to develop programs and to provide services in a way that works locally to meet the specific needs of patients.
The Department of Family Medicine's three Teaching Centres each have physicians that are part of Calgary's Primary Care Networks. Click the links below for more info on each clinic's Primary Care Network.
Central Family Medicine Teaching Centre is a member of both:
South Health Campus Family Medicine Teaching Centre is a member of:
Sunridge Family Medicine Teaching Clinic is a member of: