South Health Campus Teaching Clinic
4448 Front Street SE, 4th Floor Outpatient Tower, Calgary, AB T3M 1M4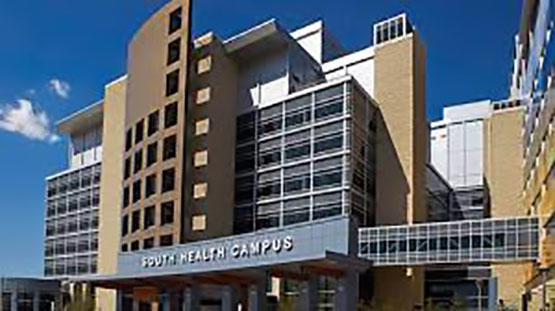 Overview
We are located on the 4th floor of the outpatient tower of the South Health Campus, a hospital in the southern suburbs of Calgary opened in 2012. Along with a beautiful scenic view, this innovative teaching clinic within the hospital setting allows us the ability to collaborate with other departmens in the hospital.
Wellness is a focus at South Health Campus, and there is a gym, indoor running track and climbing wall in the onsite YMCA.
South Health Campus Family Medicine Teaching Clinic is a core teaching site for Family Medicine residents. We have an integrated team housed within two microsystems, providing both quality education and patient care.
Our clinic functions as a Patient's Medical Home, with all team members playing a role in caring for and providing support to patients as they navigate their health journey.
The clinic supports a team approach to patient care, with an RN, social work, licensed practice nurses (LPN's), a pharmacist, dietician, medical office assistants and receptionists involved in care.
We are members of the South Calgary Primary Care Network.
Patient Population
Physicians at the South Health Campus Family Medicine Teaching Clinic provide care to over 7000 patients.
Our physicians serve a community of patients who are diverse with respect to age, health and socioeconomic status.
Preceptors deliver comprehensive care, including pediatric, adult, prenatal, and geriatric care to the paneled population.
Clinic Structure and Services
South Health Campus Family Medicine Teaching Clinic uses a team-based approach to teaching and learning. In the second year of residency training, residents will have their own schedule for  patients, including those paneled to them as a secondary provider, to book directly with the resident. This facilitates a graduated increase in responsibility while providing continuity for the residents with patients they follow.
There are regular opportunities to learn from and interact with different preceptors (clinics including procedural clinic and shared mental health, lunch and learn sessions, module meetings). In addition, residents benefit from interactions and learning from on-site allied health professionals.
Lunch and learn sessions are held 2 days a week with residents and various team members taking turns presenting topics for discussion.
Residents are invited to monthly module meetings regarding clinic operations.