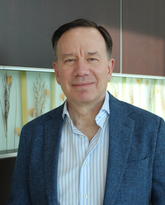 Richard Novick
Intensivist
Deputy Department Head
About
Biography
Dr. Richard J. Novick is a consultant cardiac surgeon and intensivist at the Foothills Medical Centre and a Professor in the Departments of Cardiac Sciences, Critical Care and Surgery at the University of Calgary. He completed medical school, as well as residency training in general surgery and cardiothoracic surgery at McGill University, followed by a fellowship in cardiac surgery, critical care and transplantation at Stanford University Medical Center. He subsequently practiced at Western University's Schulich School of Medicines for 24 years, where he served as Professor and Chair of the Division of Cardiac Surgery, as well as Chief of Cardiac Surgery, at the London Health Sciences Centre.
Dr. Novick has engaged in a busy clinical practice of both cardiac surgery and critical care, while maintaining a strong academic commitment, including grant-supported laboratory research and completion of a graduate certificate in Clinical Epidemiology and Biostatistics. Dr. Novick's research interests have focused on the preservation of grafts for transplantation, on the learning curves of innovative cardiac surgical procedures and, more recently, on qualitative educational research. He introduced use of the cumulative sum failure method in the analysis of surgical learning curves and postoperative complication rates in adult cardiac surgery. In addition, he was the project leader of an $18.2 million grant from the Canada Foundation for Innovation, which established CSTAR (Canadian Surgical Technologies & Advanced Robotics), a national centre for minimally invasive and robotic surgery. Dr. Novick has mentored numerous clinical trainees and has also supervised the laboratory and clinical research work of postgraduate fellows, surgical residents, and medical students; Dr. Novick and two of these trainees have won national research awards. Dr. Novick has served as a member of the Editorial Board of the Annals of Thoracic Surgery, including a decade as Associate Editor, and served a five year term as national Chair of the Cardiac Surgery Examination Board of the Royal College. His bibliography includes over 300 peer-reviewed papers, textbook chapters, abstracts, and invited commentaries.
Dr. Novick is married and has two sons. He has a strong interest in foreign languages and he and his family are avid hikers and skiers.