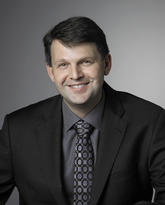 Benedikt Hallgrimsson
Professor
Cell Biology & Anatomy
Scientific Director
Alberta Children's Hospital Research Institute (ACHRI)
Ph.D. (Doctor of Philosophy)
Research and teaching
Activities
Research Personnel
Lucas Lo Vercio - Postdoctoral Fellow
Marta Vidal Garcia - Postdoctoral Fellow
Beth Barretto - Postdoctoral Fellow
Hanne Hoskens - Postdoctoral Fellow
David Katz - Research Associate
David Aponte - PhD student
Eva Zaffarini - PhD student
Cassidy Da Silva - PhD student
Jay Devine - PhD student
Wei Liu - Lab Manager
Biography
Dr. Benedikt Hallgrimsson re-appointed head of the Department of Cell Biology and Anatomy. The Appointment to a second five-year term takes effect July 1, 2019.
Benedikt is an internationally recognized biological anthropologist and evolutionary biologist. His groundbreaking research combines developmental genetics and bioinformatics with 3D imaging and morphometrics (the quantitative analysis of form). His study of phenotypic variation is helping us to better understand the earliest building blocks of life and the development of people, animals or organisms.
A part the University of Calgary family since 2000, Benedikt is a professor in the Department of Cell Biology and Anatomy. He is an adjunct professor in the in the Faculty of Arts and the Faculty of Veterinary Medicine. Benedikt is also the scientific director, Basic Science, at the Alberta Children's Hospital Research Institute (ACHRI). He is a member of ACHRI and the McCaig Institute for Bone and Joint Health.
An experienced institutional leader, Benedikt was the founding director of our Bachelor of Health Sciences program, serving from 2001 to 2007. He was also instrumental in the development of the Faculty of Veterinary Medicine.
Benedikt previously served as Associate Dean, Undergraduate Science Education and Senior Associate Dean, Education within the CSM and as a Deputy Provost for the University of Calgary. He earned his PhD from University of Chicago in 1995.
The recipient of numerous research and teaching awards, he was named a fellow of the American Association for Advancement of Science earlier this year.
Awards
Award
Fellow of the American Association for Advancement of Science - 2019
Grants
CIHR