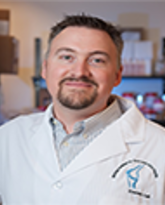 Roman Krawetz
Associate Professor
Cell Biology & Anatomy
PhD (Doctor of Philosophy)
Courses
Graduate Teaching
Lecturer: VETMED 702 - Advanced Topics in Stem Cell Biology and Regenerative Medicine
Coordinator and Lecturer: BMEN 619 – Signal Transduction
Coordinator and Lecturer: BMEN 602 – Introduction to Biomedical Engineering
Research and teaching
Activities
Research Personnel
Student Supervision - Master's Students
Jessica Corpuz
Alexandra Olsen
Sophia Shah
Student Supervision - Doctoral Students
Anand Masson
Nabangshu Das
Leila Larijani
Nicoletta Ninkovic
Biography
In 2006, I completed my PhD with Dr. Greg Kelly from The University of Western Ontario, Canada. My thesis research examined how murine stem cells make the decision to differentiate into cells/tissues that make up the extra-embryonic structures that sustain the early embryo. The outcome of my research demonstrated that the cytoskeleton played a pivotal role in early fate specification, which was not widely accepted at the time, but this concept has gained significant traction within the scientific community. In 2006, I was recruited to Dr. Derrick Rancourt's laboratory at the U of C to pursue postdoctoral. My work demonstrated the usefulness of mouse and human embryonic stem cells for regenerative medicine approaches in bone and cartilage tissue engineering. Within my current appointment at the University of Calgary, I have investigated the role of synovial mesenchymal stem cells (sMSCs) in normal joints, osteoarthritis (OA) and Rheumatoid arthritis (RA). Working closely with the Southern Alberta Tissue Donation and Transplantation program, orthopaedic surgeons and Rheumatologists my group has derived and characterized the chondrogenic potential and genome wide expression profiles from a number of individuals. We have identified an abnormal phenotype in stem cells derived from patients with arthritis including those with arthroscopically diagnosed early OA. Furthermore, we have identified specific inflammatory cytokines within OA synovial fluid that can reproduce the arthritic stem cell phenotype in normal sMSCs.
Awards
Grants
CFI Leaders Opportunity Fund
Alberta Jobs, Economy and Innovation. (Co-PI)
CIHR/IMHA (PI)
NSERC (PI)

Bone and Joint Stem Cell Biology. CRC.