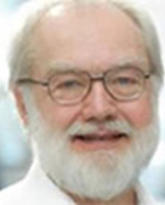 William Stell
Professor
Cell Biology & Anatomy
PhD (Anatomy)
University of Chicago, 1966
Research and teaching
Research Interests
Development of scientific approaches to ophthalmic disease (translation from basic science to clinical ophthalmology), especially experimental models of myopia and ocular growth regulation, and inherited causes of blindness.
Structure, function and chemistry of vertebrate visual pathways, especially the retina.
Analysis of neuronal structure by classical staining techniques, of synaptic ultra-structure by electron microscopy including freeze-fracture method, and of connectivity by structure/function correlation and serial sectioning.
Identification, localization and chemistry of neurotransmitter-mechanisms, especially peptidergic neurons and pathways, in the retina.
Neurogenesis and synaptogenesis in the retina. Control of cell proliferation.
Structure, function, and neurochemistry of centrifugal fibres to the retina.
Retinal circuitry underlying the optokinetic response.
Biography
William K. Stell, PhD, MD
An Informal Introduction

Dr. Stell was born in Syracuse, New York, and raised in the USA. He has degrees from Swarthmore College (BA, High Honors, Zoology) and The University of Chicago (PhD, & MD With Honors), and he spent 5 years as Postdoctoral Fellow at the National Institutes of Health (Bethesda, MD). He was a faculty member at UCLA, as Professor of Ophthalmology in the Jules Stein Eye Institute, for 8 years starting in 1972. He moved to the University of Calgary as Professor, Head of the Division of Morphological Sciences, Director of the Lions' Sight Centre, in 1980. He is now Professor of Cell Biology and Anatomy, a full member of the Hotchkiss Brain Institute, and Associate Member of the Alberta Children's Hospital Research Institute, in The Cumming School of Medicine. His research specialty is retinal neurobiology and vision, especially as they apply to understanding and preventing myopia (near-sightedness) and inherited disorders of visual processing in the retina. His research has been supported by the National Institutes of Health (USA), the Canadian Institutes for Health Research, and the Natural Sciences and Engineering Council of Canada, among others, and he is the author or co-author of over 100 peer-reviewed research papers.
Dr. Stell was Chair of the Scientific Advisory Board of the Foundation Fighting Blindness (Canada) from 1989 to 1995. He has supported the activities and aims of the Foundation ever since, and became Director of Scientific Programs for the Foundation in July 2007; he retired from this position, which is now called "Expert Scientific Advisor", in 2016. The Foundation funds essential vision research at universities and teaching hospitals across Canada, aimed at discovering the causes, treatments and ultimately the cures for retinal diseases such as retinitis pigmentosa (RP) and age-related macular degeneration (AMD).
An important facet of Dr. Stell's life is travel, building bridges to people in other countries and cultures, and fostering international collaborations. These days, the internationalization of Dr. Bill shows itself in mentoring of students in Australia, China and the Philippines; collaborating with researchers in these countries plus Hong Kong, Japan and Argentina; mentoring undergraduates, many of whose families came recently from Asia, Africa, Latin America or the Middle East; and networking with people all over the globe via Facebook. (All this, for a guy who doesn't even own a cell phone!)
Dr. Stell is, as you can imagine, a very serious academic scientist and educator. (LOL ©) But he does have a lighter side. In his spare time (do professors HAVE spare time, he wonders?), music has always been his other life. As a college undergrad, he played saxophone and sang Everly Brothers duets in a rock 'n' roll quartet called The Turks, and more recently - MUCH more recently! - he sang semi-professionally for ten years in the Calgary Opera Chorus, as well as in Christmas Cheer, a party- and mall-strolling caroling group. With Dr. Stell, you never know for sure what character will turn up, and he especially enjoyed playing an escapee from the lunatic asylum in the Calgary Opera production of Sweeney Todd - nothing like type-casting, eh? He loves making puns. He also loves teaching and mentoring younger scientists and doctors in training - undergraduates, graduate students, and medical students; and he relishes discussing the eye, vision, and preserving and restoring eyesight.
He hopes that you will call him just plain Bill.
Or "Dr. Bill", of course ... the "doctor bill" you don't have to pay.©
Awards
Visiting Fellow, ARC Centre of Excellence in Vision Science, Research School of Biological Sciences, Australian National University, Canberra, Australia, July 2008-July 2009
Fellow of the Association for Research in Vision and Ophthalmology (FARVO):
"Silver" – May 2009 (one of ~300 awardees among ~11,500 members)
"Gold" – May 2012 (one of 34) – for long and exceptional service to ARVO
University of Calgary Faculty of Graduate Studies, My Supervisor Skills: GREAT Supervisor Award, September 2014 – recognizes supervisors from each graduate program for their outstanding supervision and mentorship of graduate students.
Visiting Professor, Hainan Eye Hospital, Zhongshan Ophthalmic Center, Sun Yat-sen University, December 2014 – November 2017.
Visiting Researcher, University of Canberra, Australia, July-December 2019