Program Lead: Dr. Lara Cooke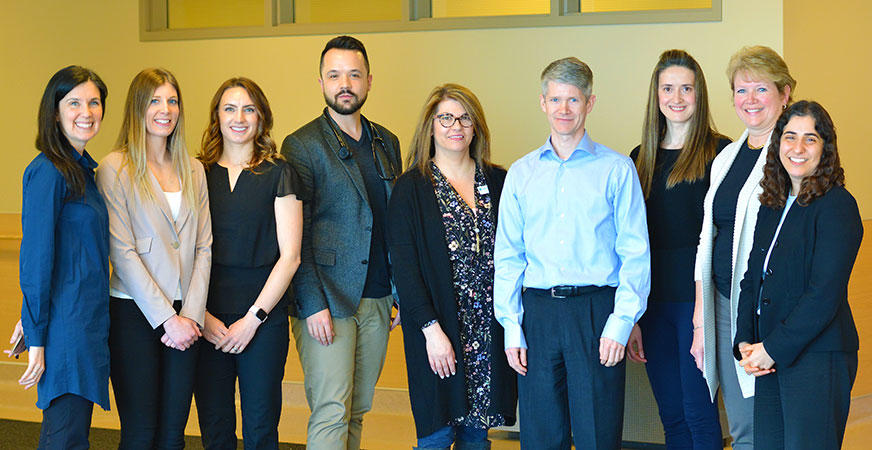 The Calgary Headache Assessment and Management Program, located at South Health Campus, is a clinic that specializes in managing patients with complex headaches such as chronic migraine, cluster headache, and other rare headache disorders through a combination of behavioural management strategies and evidence-based medical therapies.  The program encourages a holistic approach to the management of headache and is actively engaged in research studies for migraine headache, cluster headache, medication overuse headache, exercise in headache, and spontaneous intracranial hypotension.
Highlights
The Headache Program follows a patient-centered, team approach with interdisciplinary collaboration. In total, the program receives over 2,000 patient referrals per year and we provide access to a greater number of patients each year. The program offers group education sessions, telephone consultations with referring physicians and patients, and telehealth visits for patients living outside of Calgary.
The Headache Program is recruiting!
The Department of Clinical Neurosciences in the Cumming School of Medicine, University of Calgary, invites applications for a Neurologist to develop and lead the Headache Program. The Department of Clinical Neurosciences and Division of Neurology are committed to fostering diversity through cultivating an environment where people with a variety of backgrounds, genders, interests and talents feel welcome and included. We are seeking a Neurologist who will lead development of clinical services and academic programs related to headache (research and education). Participation in Division and Department academic activities, and in the General Neurology inpatient service rotation is expected. 
For more information, click here.
Education
We provide training to headache fellows from Canada and abroad, residents in anesthesiology and family practice, and medical students. We are also welcoming observers from other countries.
The Headache Program emphasizes the role of patient and family education in coping with headache disorders, many of which are chronic diseases with episodic manifestations. 
Headache Program members have participated at the national level in the Canadian Headache Society National Neurology Residents Headache Course held in Montreal each October; in the headache courses held at the Canadian Neurological Sciences Federation meeting each June; and at the Launch Resident Teaching Course in Toronto each February.  At the international level, our members also contributed to the last International Headache Conference in Vancouver. 
Appointments at South Health Campus
Headache Program appointments are on the 5th floor of the South Health Campus. 
When entering the main doors from Front Street, turn left and go to the Outpatient Elevators, located near the Good Earth Café.  Exit the elevator on the 5th floor, turn right at the reception desk, and follow the corridor as it curves to the left.  Check in at "E" desk. 
There are also AHS volunteers throughout the hospital wearing red vests who can help you with directions.
Parking at South Health Campus
Parking is available in underground Lot 1 at South Health Campus.
Please retain your ticket for use at pay stations before you return to you vehicle. Make note of which level you are parked on and in which area: Prairie, Forest or Mountain.
Please click here for  a map and payment information. 
Research
The Headache Program is invested in clinical research which currently includes a number of investigator-initiated studies and industry-sponsored studies. 
Examples include Phase three Calcitonin-Gene Related Peptide (CGRP) monoclonal antibody trials for migraine and cluster headache, an exercise intervention trial for migraine, a bridging medication trial for medication overuse headache, a registry on Spontanoues Intracranial Hypotenstion, an online sleep intervention study, and other observational studies.
Program members have also been active in publishing guidelines and other articles on headache diagnosis and treatment.
For further information about any of the CHAMP studies please contact the CHAMP Research Office:
Phone: 403-956-3427
Fax: 403-956-3497
Please use the links below to learn more about our research:
Migraine Headache
"The Effects of an Aerobic Exercise Program in Managing Migraine Headaches"
The purpose of this study is to determine whether an aerobic exercise program when added to a program of neck exercises, nutritional advice and pharmacological therapy provides benefit for patients with migraine headaches.
"Correlates of Disease Severity and Burden in Persons with Migraine"
The purpose of this study is to assess the psychometric properties of a new measure of migraine severity while studying the trajectory of disease severity in patients with migraine.
Spontaneous Intracranial Hypotension
"Spontaneous Intracranial Hypotension Registry"
The purpose of the registry is to collect data on adult patients with SIH with the goal of answering the many existing questions and improve our understanding of the condition.
Our Headache Program Team