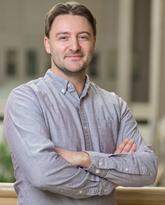 Jonathan Epp
Assistant Professor
Cell Biology & Anatomy
Co-Director
CSM Optogenetics/Behavior Core Facility
Ph.D. (Doctor of Philosophy)
University of British Columbia, 2010
Postdoctoral Fellowship
Hospital for Sick Children, Toronto
Courses
Co-course coordinator MDSC 619.02 (Neuro II Graduate course)
Research and teaching
Research Activities
Research Personnel
Sampson Law: Lab manager - skclaw@ucalgary.ca
Gavin Scott:: Postdoctoral Fellow – gavin.scott@ucalgary.ca
Dylan Terstege: PhD student – dylan.terstege@ucalgary.ca
Research Interests:

My two primary research interests are in the areas of learning and memory and adult neurogenesis. Specifically, I am interested in memory consolidation and the persistence of memory over time, the underlying neural mechanisms that support this and the pathological conditions that interrupt normal memory processes. An overarching aim is to address questions related to these research topics at multiple levels of analysis. For example, memory stability may relate to synaptic function and spine dynamics (i.e. microscale changes) however I am also interested in investigating the mesoscale and macroscale organization of memory. This can be approached by studying the functional connectivity of different regions throughout the brain.
With respect to adult neurogenesis I am interested in understanding the functional consequences of adding new neurons into existing circuitry. We have previously shown at the behavioural level that adult neurogenesis provides a mechanism for reducing memory interference by enhancing forgetting of old memories. I am now interested in examining how this occurs at the cellular and network level and whether this can be applied to conditions such as dementia or age-related memory loss where memory interference can be a substantial problem.
My lab uses several cutting-edge techniques in combination with detailed behavioural analyses to address these questions including:
Optogenetics and chemogenetics to manipulate neuronal activity
In vivo fiber photometry and miniscopes to monitor regional and neuronal activity
Advanced tissue processing and imaging to examine brain wide structural and functional connectivity.
Biography
Dr. Jonathan Epp has expertise in microscopy, histology and behavioural neuroscience. Dr. Epp was hired in 2017 as an Assistant Professor in the Department of Cell Biology and Anatomy and a full member of the HBI at UCalgary. His background in neuroscience was shaped by his training with several world leaders in behavioural neuroscience, adult neurogenesis and learning and memory. He received his B.Sc. and M.Sc. in neuroscience from the University of Lethbridge, Canadian Center for Behavioral Neuroscience with Dr. Robert Sutherland, (1999-2003; 2003-2005) His Ph.D. was completed at the University of British Columbia in 2010 with Dr. Lisa Galea. Dr. Epp conducted postdoctoral work at the Hospital for Sick Children in Toronto with Dr. Paul Frankland where he was the recipient of funding from several sources including the Ontario ministry of research and innovation and was granted a prestigious NARSAD young investigator award from the Brain and behavior research foundation. Dr. Epp has expertise in adult neurogenesis, structural and functional integration of new neurons and has performed numerous studies examining hippocampal function in both rodent models and in humans. He has recently demonstrated the functional importance of adult neurogenesis in forgetting and how this mechanism protects against memory interference. His current work is focused on examining brain-wide structural and functional connectivity changes that mediate learning, memory and forgetting. Recently, Dr. Epp has become a leader in the field of tissue clearing, a novel research area that has allowed for unique insight into the 3-dimensional organization of intact brain tissue. His recent work has resulted in the development of protocols for tissue clearing and analysis of intact neuronal morphology and brain wide functional networks. Dr. Epp has published extensively with 28 peer-reviewed papers in high impact journals such as Nature communications, Neuron and Journal of neuroscience.
Awards
Grants
Cure for Alzheimer's Disease Fund (Co-PI)
Azrieli Foundation – Back on Track from COVID19.
Alzheimer's Society of Canada – ASRP
Alberta Economic Development and Tourism – CFI Provincial Matching
Canadian Foundation for Innovation – John R. Evans Leaders Fund
Social Sciences and Humanities Research Council - New Frontiers in Research Fund