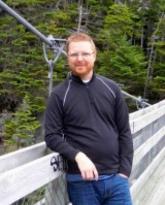 Tyler Williamson
Associate Professor
Department of Community Health Sciences
Director
Centre for Health Informatics (CHI)
Biography
Tyler Williamson is the Director of the Centre for Health Informatics, formerly the Associate Director. In addition, he is an Associate Professor of Biostatistics in the Department of Community Health Sciences as well as the Director of the Health Data Science and Biostatistics Diploma Program at the University of Calgary. He is a member of the O'Brien Institute of Public Health and the Alberta Children's Hospital research Institute. He's earned a BSc Statistics at UofC '05, PhD Biostatistics UofC '11 and received NAPCRG New Investigator Award in 2018 for outstanding work as new primary care investigator within the North American Primary Care Research Group (largest primary care research organization in the world).
His research interests include health data integration (combining electronic medical record and health administrative data), chronic disease surveillance and research using electronic medical record data, and non-canonical link functions for binomial generalized linear models. He is a national and internationally recognized in the use of electronic medical record data for public health surveillance, health services research, and practice quality improvement working with organizations such as the Public Health Agency of Canada and Health Canada's Marketed Health Products Directorate.
Dr. Williamson is not accepting graduate students at this time.