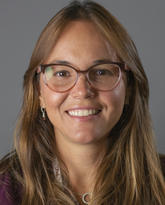 Camila Aquino
Assistant Professor of Neurology
Movement Disorders
Biography
Dr. Camila Aquino is a neurologist subspecializing in movement disorders. She has clinical experience in the diagnosis and management of patients with Parkinson's disease, tremor, dystonia, chorea, and other involuntary movements, as well as in deep brain stimulation and botulinum toxin injections.
Dr. Aquino attended medical school and completed her neurology residency in Brazil. She was the preceptor for the neurology residency program at the Federal University of Sao Paulo, where she also obtained a masters and a Ph.D. degree in Neurosciences. She continued her training in Canada, with a clinical fellowship in movement disorders at the University of Toronto, and a masters degree in Health Research Methods (clinical epidemiology) at McMaster University.
Dr. Aquino previously practiced at the University of Utah in Salt Lake City, and recently joined the Movement Disorder team at the University of Calgary. Her main clinical areas of interest are Parkinson's disease, Deep Brain Stimulation, Neurogenetics, and autoimmune movement disorders. Her research focuses on the design and implementation of symptomatic and neuroprotective clinical trials in Parkinson's disease, and in the expansion of targets and indications for neuromodulation.
Dr. Aquino has been awarded a clinical fellowship grant from Parkinson's Society Canada, and scholarships from Mohammed Al Zaibak foundation and CAPES (Brazilian Ministry of Education).