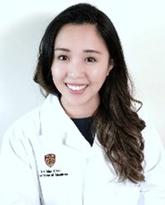 May Y. Choi
Assistant Professor
Division of Rheumatology
Rheumatologist
Richmond Road Diagnostic and Treatment Centre
Associate Director, Translational Research
Lupus Centre of Excellence
Masters in Public Health in Epidemiology
Harvard University
Brigham and Women's Hospital Lupus Fellowship
Harvard University
Adult Rheumatology Fellowship
University of Calgary
Residency, Internal Medicine
University of Calgary
MD
University of Alberta
Areas of focus
Research areas
Diagnostics biomarkers for autoimmune diseases
Autoantibodies
Epidemiology
Machine learning
Lupus
Biography
Dr. May Choi is a recent graduate of the Cumming School of Medicine's Adult Rheumatology training program. She's also the Associate Director of MitogenDx and the Associate Director of Translational Research at the Lupus Centre of Excellence. Dr. Choi completed her Bachelor of Health Sciences (Honours) degree at the University of Calgary in 2010, her Doctor of Medicine at the University of Alberta in 2014 and Internal Medicine training at the University of Calgary in 2017.
In 2019, she began a Masters of Public Health in Epidemiology Program at Harvard University and the Brigham and Women's Hospital Lupus Fellowship under the supervision of Dr. Karen Costenbader.
Her recent publications and current research interests are focused on biomarker discovery and validation for the prediction of clinical outcomes in early onset lupus, as well as systemic lupus erythematosus (SLE) epidemiology.
Current research projects:
Longitudinal Examination of ANA and Novel Autoantibodies in SLE

In collaboration with Harvard and MIT.

COVID-19 Biomarker Projects in SLE Patients
Nurses Health Study for SLE and Rheumatoid Arthritis
Cardiovascular Risk Prediction Models in SLE
Hydroxychloroquine Toxicity in Autoimmune Patients