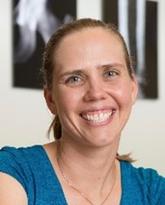 Sarah Manske
Assistant Professor
Division of Rheumatology
PhD, Biomedical Engineering
Research
Areas of focus
Bone
Imaging
Rheumatoid arthritis
Osteoarthritis
Biography
Dr. Sarah Manske is an assistant professor in the Department of Radiology at the University of Calgary, with an honorary appointment in the Division of Rheumatology.
Her research focuses on using imaging to better understand the mechanisms that underpin diseases of the musculoskeletal system, including osteoarthritis, rheumatoid arthritis and osteoporosis. She utilizes clinical imaging facilities for human studies in the Centre for Mobility and Joint Health, including high resolution peripheral quantitative computed tomography (HR-pQCT), computed tomography, magnetic resonance imaging and ultrasound, as well as micro-computed tomography for animal studies.
Her rheumatoid arthritis research has focused on quantifying and understanding bone damage progression. She collaborates with the Division of Rheumatology to conduct clinical research activities in inflammatory arthritis. She is also a co-chair of the Study grouP for xtrEme-Computed Tomography in Rheumatoid Arthritis (SPECTRA), an Outcome Measures in Rheumatology (OMERACT) working group.
In addition, Dr. Manske is the lead researcher at the Manske Lab, an interdisciplinary research group within the McCaig Institute for Bone and Joint Health. The lab utilizes advanced imaging techniques from the Centre for Mobility and Joint Health to study bone and its contribution to musculoskeletal disease.