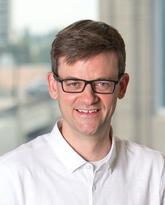 Glen Hazlewood
Associate Professor
Division of Rheumatology
Rheumatologist
Richmond Road Diagnostic and Treatment Centre
PhD - Epidemiology
University of Toronto, 2016
Doctorate - Rheumatology
University of Calgary, 2010
Doctorate - Internal Medicine
University of Calgary, 2008
MD
University of Calgary, 2005
Preferred method of communication
For clinical inquiries, contact Kathryn McRae.
For all other inquiries, please contact Deanne Jeffery.
Research
Areas of focus
Early inflammatory arthritis
Network meta-analysis
Patient preferences
Clinical practice guidelines and decision tools
Pragmatic randomized controlled trials
Biography
Dr. Glen Hazlewood is a practicing rheumatologist and clinician scientist. Currently an Associate Professor within the Department of Medicine, he completed his rheumatology training in 2010 at the University of Calgary and his PhD in clinical epidemiology through the University of Toronto in 2016.
Dr. Hazlewood's program of research is focused on understanding how to align treatment choices in rheumatoid arthritis and other chronic immune-mediated diseases with both best evidence and patients' preferences. His research areas of interest include network meta-analyses, patient preference research, clinical practice guidelines, decision tools, and pragmatic randomized controlled trials. He is a CIHR New Investigator and leads an active research team with several clinical trainees and graduate students.