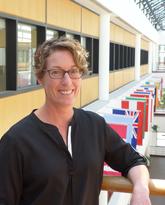 Jo-Louise Huq
Assistant Professor (Teaching)
Department of Community Health Sciences
Biography
Jo-Louise Huq received her Ph.D. in Strategic Management and Organization from the University of Alberta School of Business in 2015. She completed her postdoctoral studies at Haskayne School of Business with a focus on innovation in health care.
Currently, Jo-Louise is an Assistant Professor (Teaching) with a cross appointment at Cumming School of Medicine, Community Health Sciences and Haskayne School of Business, Entrepreneurship and Innovation. She teaches in the Cumming School of Medicine, Precision Health Program and is leading the program's Innovation & Entrepreneurship specialization. At Haskayne School of Business, Jo-Louise teaches in the Doctor of Business Administration program, the Executive MBA program, and in the PhD program.
Jo-Louise's research interests are related to wicked problems, innovation and change in established, mature industries and sectors, and the professions. She is an organizational and management theory (OMT) scholar and a qualitative researcher. Jo-Louise's peer-reviewed research has been published in the Academy of Management Journal, Organization Studies, Business & Society, BMJ Quality & Safety, BMJ Leader, and Leadership.