Program Lead: Dr. Lara Cooke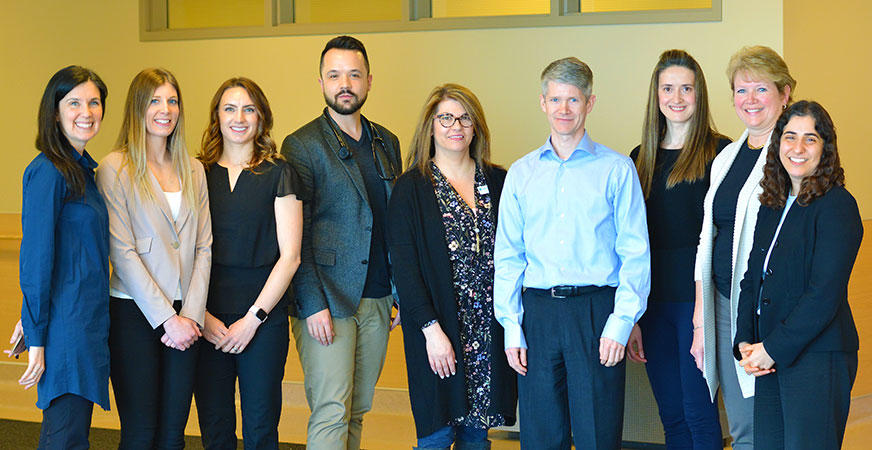 The Calgary Headache Assessment and Management Program (CHAMP) has seen a year of growth with two new neurologists and a series of new workshops now available to support headache patients seen by neurologists around the city.  The program saw over 2,300 patients in the fiscal 2018-19 year.
CHAMP welcomed Dr. Wei Liu and Dr. Laura Baxter to South Health Campus in the summer of 2019 to care for patients with complex headaches.  
In addition, the program's Nurse Practitioner developed and now delivers monthly self-management workshops and lifestyle management workshops tailored to the needs of headache patients.  The program has made these sessions available for patients of neurologists across Calgary; now more patients can access CHAMP's multidisciplinary, behaviourally focused programs. 
To round out our multidisciplinary programs, we now have monthly education sessions on medication for headache, and through a collaboration with Dr. James Kim, a family physician at MOSAIC PCN, headache education sessions are offered regularly to headache patients in Northeast Calgary.
On the research front, CHAMP continues to lead several research trials, and Dr. Farnaz Amoozegar was awarded a catalyst grant for an investigator-initiated clinical trial looking at the role of cannabis in the treatment of migraine headache.
What's next? In 2020, the CHAMP program will develop a headache registry in collaboration with Dr. Serena Orr, a new pediatric headache specialist at Alberta Children's Hospital. The goal of the registry will be to support longitudinal research on the natural history of migraine, quality improvement projects in the program, reduction of practice variation, and exploration of the relationships between adult migraineurs and their children who develop migraine.  
(Updated December 2019)
Our Headache Program Team