The Department of Medicine is home to numerous education scholars who direct programs of research across the continuum of training. Members continue to advance education across a number of areas, including curriculum development, simulation, and assessment. Within the Office of Education, we want to continue cultivating leaders in education scholarship through providing a range of supports (listed below) to members interested in advancing the field through a range of scholarly activities. Education scholarship takes many forms, and we use the METRICS model (pictured right) to recognize, support, and value the work that our members continue to lead within our Department.
Department members wishing to learn more about how they can get involved in education scholarship or access supports from the Office of Education are encouraged to reach out.
Primary Contact:
Allison Brown, PhD
Department of Medicine
allison.brown@ucalgary.ca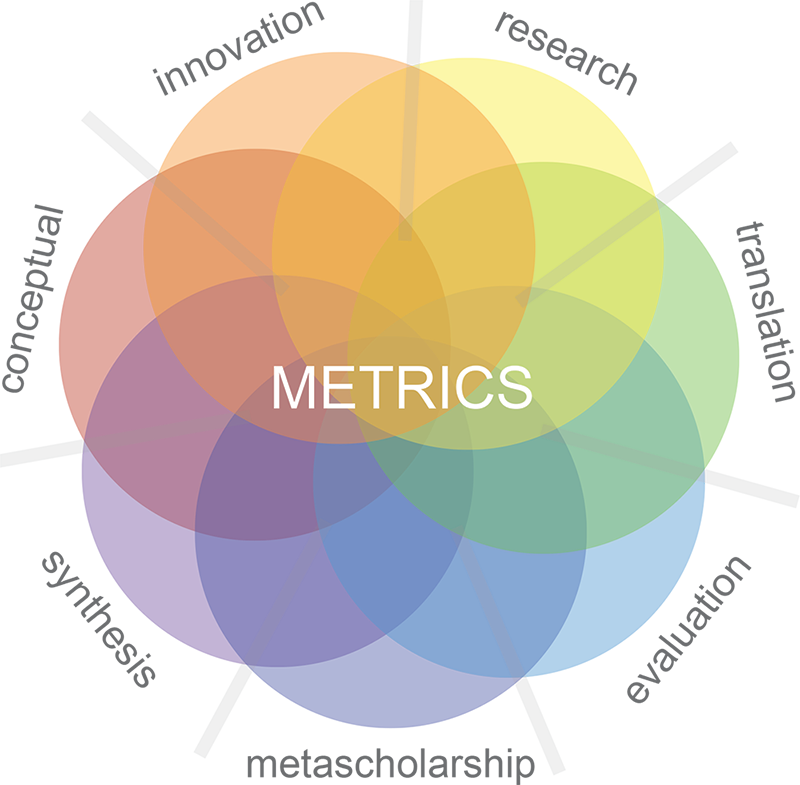 Source: Ellaway & Topps, 2017
Office of Education Supports for DOM Members Engaging in Medical Education Scholarship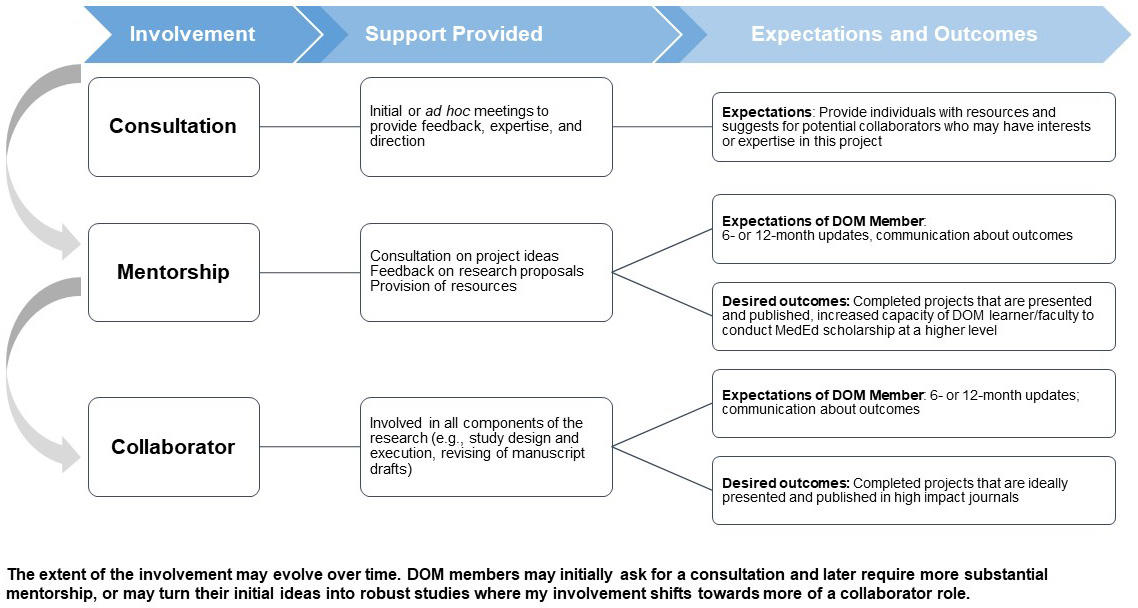 Resources for Education Scholarship
Funding for Medical Education Scholarship

There are several grant competitions specific to medical education scholarship that repeat on an annual basis. Many Department members have been successful in these competitions and can provide insight and feedback on applications.

    1. OHMES Health and Medical Education Grant

    2. Canadian Association for Medical Education

    3. Royal College for Physicians and Surgeons of Canada Grants

The Office of Education offers internal peer review for members applying to medical education grants if submitted at least 2 weeks prior to the grant deadline. For Tri-Council grant applications, the OADR Grant Development Office oversees and facilitates internal peer review.

Conducting Medical Education Scholarship

The Office of Education offers three services for members who wish to conduct medical education scholarship:

Consultation: For members who wish to get feedback on a study idea or proposal/protocol, we offer ad hoc consultations with a PhD-trained medical education scientist to provide initial feedback, expertise, and guidance. We recommend Department members reach out to us early on in the process. to optimize the 

Mentorship: For members who wish to have more longitudinal feedback or guidance beyond the initial conceptualization, we can offer more continuous mentorship as scholarly activities are conducted. This can include providing feedback on proposals, protocols, preliminary findings, and manuscript drafts.

Collaboration: For members leading education scholarship whose work aligns with ongoing research led within our Office or Department, the Office of Education can provide support as collaborators. This may include providing guidance or support to study design, data analysis, and manuscript preparation.

Tools and Software for Education Scholarship

Data Collection: The University of Calgary has an institutional license to Qualtrics to create surveys and data collection instruments. All Department members should be able to access Qualtrics through logging in with their UCID. Faculty members developing data collection instruments or surveys can reach out to our office for feedback on survey contents and user testing.

Data Analysis: The University of Calgary has institutional licenses to two software programs commonly used in medical education research: NVivo (qualitative data) and SPSS (quantitative data). Faculty using Qualtrics for data collection can export data in SPSS format to streamline data transfer. Members can be download and activate software through the software distribution centre using UCID credentials. 

Disseminating Medical Education Scholarship

Identifying the Best Venue to Disseminate Scholarship: The Office of Educationalso can provide feedback and guidance to members on selecting appropriate journals and conferences to optimize the impact and uptake of education scholarship conducted within the Department of Medicine.

Internal Peer Review: The Office of Education offers internal peer review for Department of Medicine members on their abstracts and manuscripts prior to submission. This offers Department members additional expertise and feedback to optimize likelihood of acceptance. Turnaround time depends on the length of the materials, on average <1 week for conference abstracts and <2 weeks for manuscripts.

Resources and Supports for Presenting Scholarship: The Department of Medicine has a series of templates you can use when presenting education scholarship at scientific conferences. Department members presenting education scholarship at conferences can access additional guidance when developing conference presentations, including posters, by reaching out to our office. 
Looking for support, guidance, or insight about medical education scholarship in the Department of Medicine?